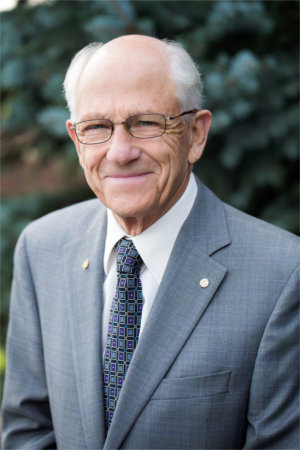 Russell K. Osgood started practicing with the firm that he is now the senior partner of in 1962. He received his undergraduate degree in pre-law from Michigan State University and his law degree from the University of Michigan. He has focused his areas of practice to real estate, estate planning and probate.
Russ is a member of the American Bar Association Real Property, Trust and Estate Law Section, and the Colorado Bar Association Trust and Estate Law and Real Estate Law Sections. He served as President of the Boulder County Estate Planning Council, and has been designated as an Accredited Estate Planner by the National Association of Estate Planners & Councils. He was the recipient in 2012 of the Distinguished Service Award from the Boulder County Council of the NAEPC.
Russ has handled real estate transactions since starting practice, and has specialized in commercial and investment real estate for over 40 years. He represents buyers and sellers, landlords and tenants in commercial transactions. With real estate investors, he advises on tax matters, property ownership (including formation of partnerships and limited liability companies) and contract and lease negotiation and preparation. He has handled IRC § 1031 tax deferred exchanges for clients since 1964 and often acts as a Qualified Intermediary for investment real property sellers.
Russ expanded his tax and estate planning work in the 1970s, taking a 10 week course in advanced estate planning at the University of Denver Law School. For most of the time since then, the federal death tax drove the estate planning field with the preparation of complex marital deduction and tax avoidance trusts, using both Wills and Living Trusts. In tax avoidance, he counsels clients on charitable trusts, irrevocable trusts, family limited partnerships, retirement planning, and personal residence trusts. Supplemental care or special needs trusts are also an important part of his practice.
The increase of the federal estate tax exemption to over $5,000,000.00 has allowed most clients to be free of death taxes, and probate avoidance planning has become more important. This includes living or revocable trusts, beneficiary deeds, payable on death accounts and other beneficiary designated investments.
The handling of the estates of deceased clients is an important part of Russ's practice with an experienced staff to assist him. This is a traumatic time in the survivors' lives and his caring attitude and knowledge make the journey through this trying time easier.
He is actively involved in his community – Jaycees, Optimist Club, Little League Baseball, his church and several non-profit boards. He has been a member of the Boulder Luncheon Optimist Club for over 50 years, has served as Chairman of numerous youth work committees, and has been its President. He also was Governor of the Colorado/Wyoming Optimist District, and a Vice President of Optimist International. An active church member, he has served 2 – three year terms on its Board of Trustees and also was an important member of the building committee for its renovation and expansion. As legal counsel, board member and President of Golden West Senior Residence, he was actively involved in the birth and growth, including 3 different building projects, of what has become Boulder's largest provider of affordable housing for seniors. He has also served as a board member of the Golden West Foundation (President), his homeowner's association, the legal advisory board of the Community Hospital Foundation, and the Permanent Endowment Committee of Mt. View United Methodist Church.